Capex Catalysts for Semiconductors in 2024
As the end of 2023 approaches, signs are emerging that the bottom of the semiconductor cycle could be behind us as the post-pandemic slump in electronics consumption clears up. The semiconductor story does not end at demand for consumer electronics. Governments are ramping up spending to bring semiconductor production back home, while the generative AI revolution is creating a new ecosystem of semiconductor-powered services. These trends are likely to drive up spending on semiconductor equipment and factories.
Key Takeaways
After declining for much of 2022 and 2023, global semiconductor sales turned positive with in March and have continued on a recovery trend. Semiconductor CapEx spending, which tends to move in step with revenue, will likely also rebound.
Government programs to incentivize domestic semiconductor industries and the new demand created by generative AI will necessitate new bases of production.
As a country that specializes more in semiconductor equipment and materials, Japan semiconductor names could stand to benefit from a possible uptick in CapEx.
Semiconductor CapEx spending may rebound in 2024
Semiconductors are used in electronic devices to process and store information, and they are found in everyday items all around us, like smartphones, computers, televisions, and cars. At the start of the pandemic, many consumers were left with little choice but to work from home, socialize in virtual spaces, and turn to online media for entertainment. This resulted in a boom for electronics demand. Between 2020 and 2021, global consumer electronics revenue is estimated to have jumped from $984bn to $1.06tn.1
When the pandemic subsided, an opposite effect occurred where consumers felt less desire to stay inside and no need to upgrade their recently purchased devices. Falling demand for electronics contributed to falling semiconductor revenue in 2022 and much of 2023, with the $1.06tn consumer electronics revenue of 2021 shrinking to $1.01tn in 2022.2 Between 2022 and 2023, global semiconductor revenue is estimated to have fallen from $610bn to $553bn.3
Month-on-month (MoM) semiconductor sales returned to positive territory in March 2023 at 0.3% growth, and have since remained on a positive trend with the number for August coming in at 1.9%.4 This could be supported in Q4 2023 and throughout 2024 by the device replacement cycle, as the quality and usability of devices purchased in the stay-at-home economy declines.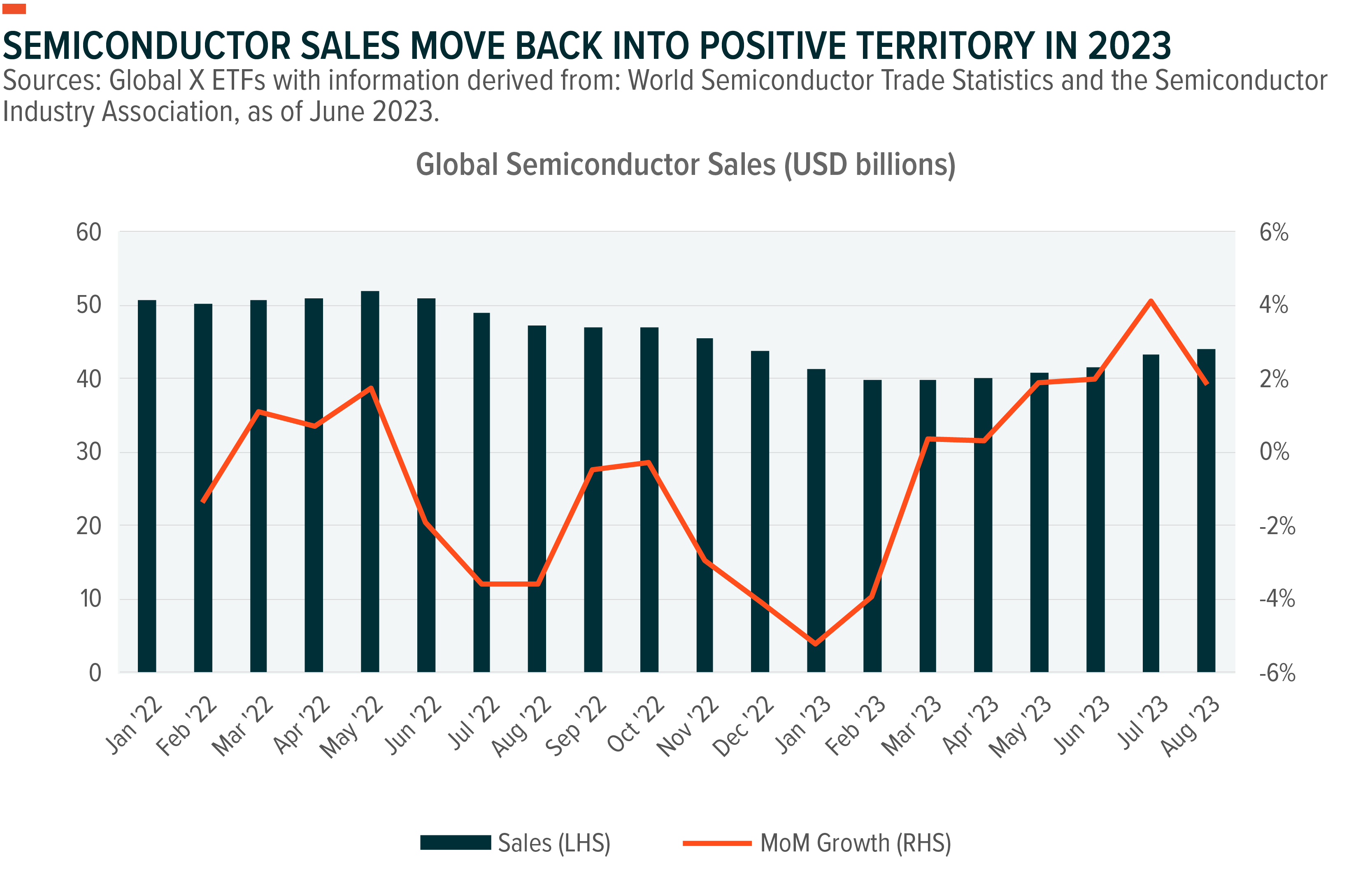 Semiconductor companies tend to increase their CapEx spending in times of growing revenue. While overall CapEx spending was slashed in 2023 amid falling revenues, it is likely we will see a rebound in CapEx spending in 2024. It is worth noting here that semiconductor factories, often referred to as fabs, generally take three years or more to finish construction and start production. Supply chain shifts in any industry are bound to take time, but this is especially true for semiconductor supply chains.
Generative AI and Government Spending Look Set to Drive CapEx
Demand for consumer electronics does not show the full picture. Geopolitical risks and a renewed focus on economic security are resulting in incentives from governments around the world to move semiconductor production home. At the same time, the generative AI revolution is giving birth to an ecosystem of new products by startups and major tech companies alike, which will inevitably require data centers and intense computational power.
On the policy side, major efforts are underway by economic powerhouses like the US, EU, Japan, China and India. In 2022, the US passed the CHIPS Act into law, which is set to distribute $52bn for the purpose of building semiconductor production and R&D facilities in the US.5 The EU approved a bill of the same name for its own chip industry in July 2023, with the ambitious goal of using 43bn EUR to double the EU's global market share in semiconductors from 10% to 20% by 2030.6
India is looking to establish its own semiconductor industry under the banner of the $10bn India Semiconductor Mission policy, which was approved in 2021.7 In 2023, investments from major US players like AMD, Micron and Applied Materials into India added some momentum to these efforts.
The Japanese government, for its part, is playing a direct hand in the revitalization of Japan's semiconductor production. In August 2022, Rapidus Corporation, a state-backed advanced chip venture, was established with support from Japanese giants such as Toyota, Sony, and SoftBank.8 Rapidus has the bold goal of producing 2nm chips by 2027.9 Smaller chips are more advanced and 2nm is considered the next-generation. The two leaders of advanced chip production, TSMC and Samsung, are aiming to produce 2nm chips by 2025.10
While the race to secure semiconductor supply chains unfolds, Generative AI is creating a new source of demand for computing power and data centers. GPUs (graphics processing units), which have typically been associated with gaming, are particularly well-suited for AI applications due to their ability to effectively execute simultaneous calculations.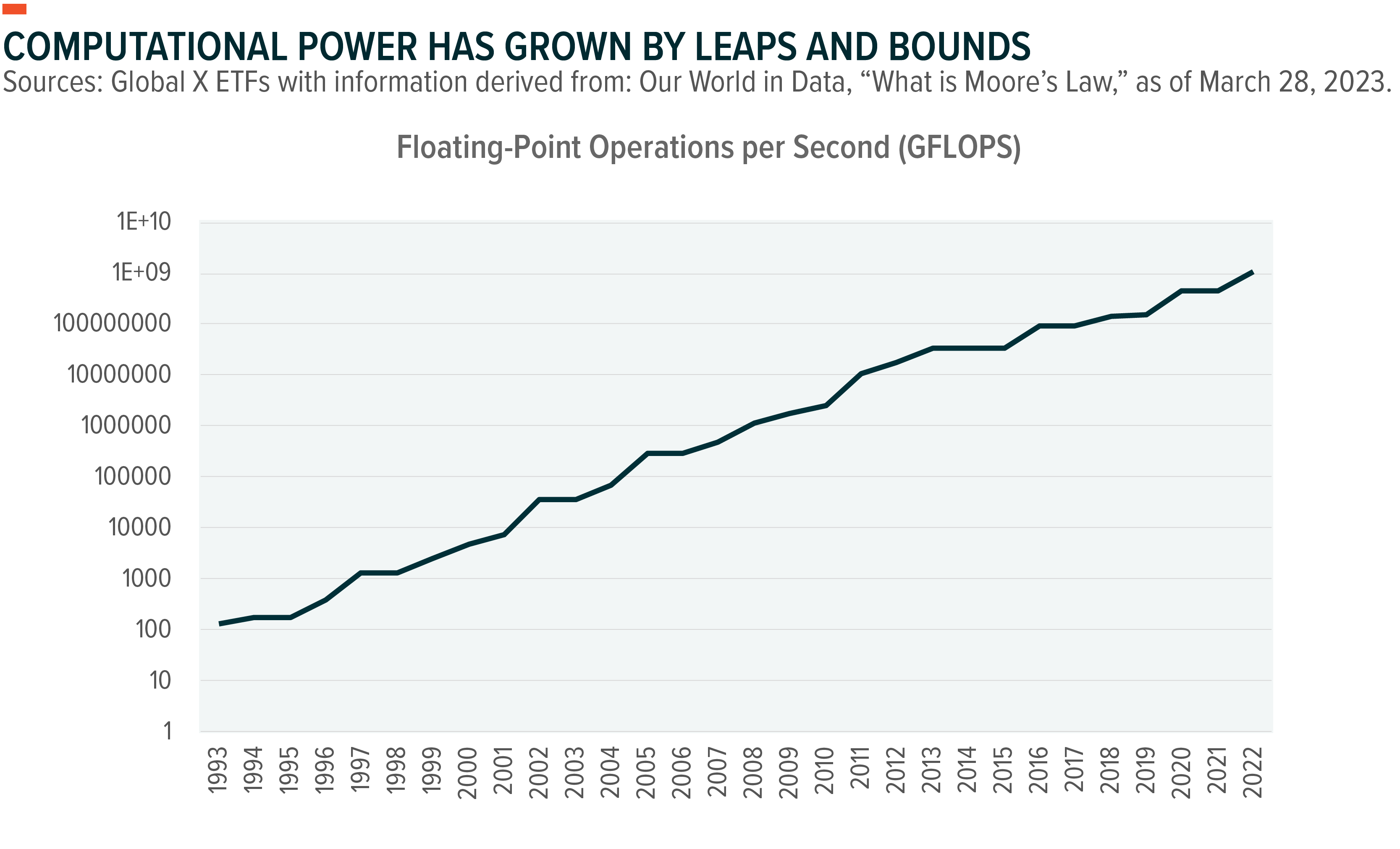 The number of transistors on semiconductors have been increasing at an exponential pace, in a trend known as Moore's law. 2nm chips, the next generation of chips targeted by TSMC, Samsung and Rapidus will likely allow for even stronger computational power.
Tech giants like Microsoft and Alphabet (Google) are allocating significant amount of their spending to data center CapEx. Microsoft's FY23 Q4 (Mar-Jun 2023) revealed its CapEx jumped to $10.7bn from $7.8bn in FY23 Q3, which Microsoft attributed mostly to spending on AI infrastructure such as data centers, CPUs, GPUs and networking equipment.11 As of the Microsoft's outlook in its FY23 Q4 earnings call, the company will likely increase CapEx towards AI infrastructure in each quarter of 2024.12
Likewise, in its Q2 2023 (Mar-Jun 2023) earnings call, Alphabet reported $6.89bn in CapEx, with the largest portion going towards servers to help power the AI revolution.13
Data centers require semiconductors. The CapEx put towards data centers will push up overall demand for semiconductors, which will likely result in more semiconductor production CapEx.
Japan, as a Powerhouse in Semi Materials and Equipment, Could Benefit
Japan still has a strong presence in the semiconductor industry, mostly in materials and equipment. In fact, Japan is estimated to account for roughly 50% of the global semiconductor materials market.14 The buildout of semiconductor production capacity will require both materials and equipment, which could translate into a boost for relevant Japanese names in 2024.
Past performance is not a guarantee of future returns.
Tokyo Electron, a large provider of semiconductor equipment, expects tailwinds from generative AI to begin contributing to the company's financial performance in the first half of 2024.15 As the Japanese government rolls out more policies to support the domestic semiconductor industry, other winners may also emerge in Japan.